Introducing Our Team: Megan, PTA
Over the next few weeks, we'll be introducing each member of our clinic here at Progressive Rehabilitation Medicine. We believe that the best way to build a relationship with our patients is by getting to know each other better. This week: Our Physical Therapy Assistant and Medical Assistant, Megan.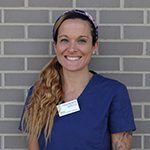 Megan has an Associates in Applied Science and Bachelors in Psychology.
She grew up around the medical field with her Paramedic Father. She took part in several ride times with him, sparking her interests in the medical field.
Megan enjoys spending time with her family and friends, being with her dogs and working in the yard.
PRT is physical restorative therapy developed at PRM which incorporates sound rehabilitation principles with advanced rehabilitation technologies across a horizontal care platform for optimal results.
PT is the traditional physical therapy provided by licensed PTs which often experiences variable results due to differences in training, schools of thought and interest by the practitioner.
PRT is only offered at Progressive Rehabilitation Medicine.