Introducing Our Team: Emily, NP-C
Over the next few weeks, we'll be introducing each member of our clinic here at Progressive Rehabilitation Medicine. We believe that the best way to build a relationship with our patients is by getting to know each other better. This week: Our Nurse Practitioner, Emily.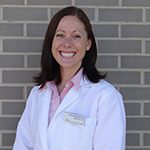 Emily obtained her RN-BSN from the University of Iowa in 2013 and then a dual Masters degree in Nursing from Allen College in Community and Public health and Family Nurse Practitioner in 2017. She worked as an RN on an inpatient step-down unit for five years.
She has been involved in healthcare for the majority of her life but her interest sparked when she attended her first EMT course in 2004 while living in New Mexico. She is passionate about motivating patients to reach their individual goals. What you can achieve is amazing when you are inspired to do so.
In her home life, she has a husband; Kris, and three children who keep her very busy. Together they enjoy traveling, camping, white water kayaking/SUPing, running and generally being in nature whenever possible.