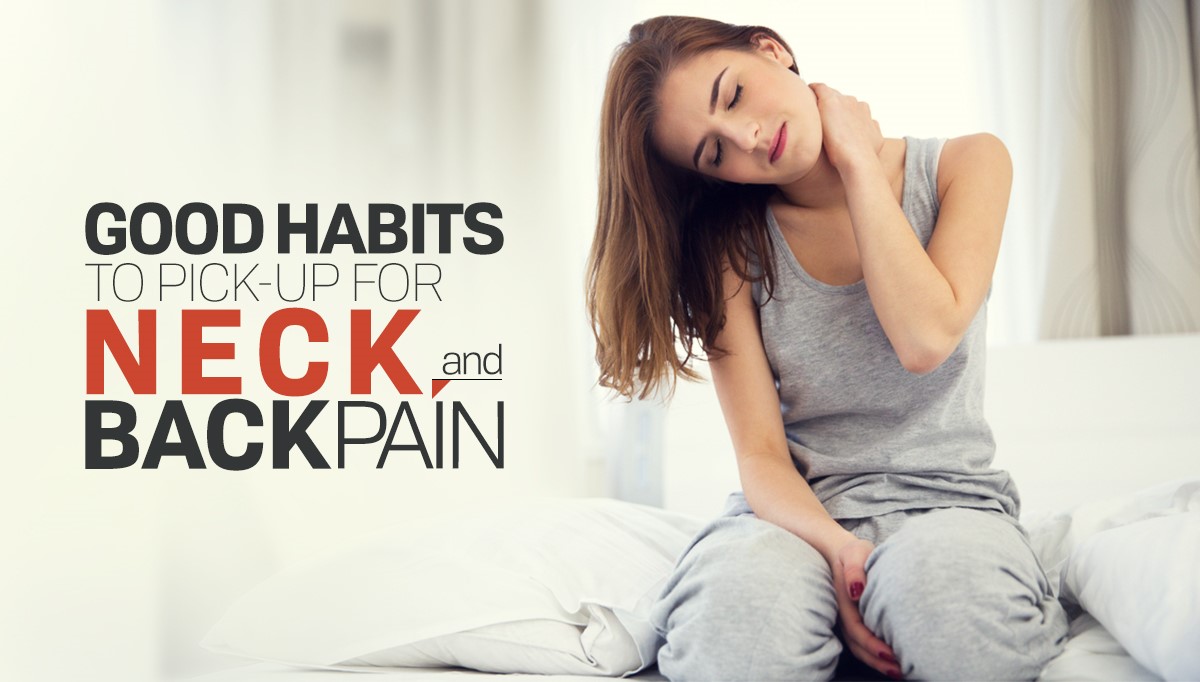 Good Habits to Pick-Up for Neck and Back Pain
Neck and back pain can definitely interfere with everyday life. It can get in the way of performing simple tasks like lifting and bending, and even cause pain while sitting. By incorporating healthy habits to support your neck and back, you can decrease your chances of developing pain in these areas or reduce the amount of pain that you're already experiencing. Here are some tips to get you started. 
Practice Good Posture
Poor posture can lead to neck and back pain. In fact, it can also extend the pain you experience from other conditions. If sitting and standing up straight is foreign to you, and you've got your work cut out.
Here's a tip to help you sit up straight in your chair at work, or at home. Sit on the edge instead of using the back support. You will unconsciously straighten up your back in this position, as you'll need to keep yourself balanced and you can't do that while slouching. Do this simple exercise a few times each day, and you'll be on your way to improving your posture and decreasing the chance of developing neck and back pain.
Practice Gentle Yoga
Yoga is a great exercise to do if you're experiencing neck and back pain. Many of the moves are gentle on the body, as this activity focuses on slow, steady movements. With that being said, it's also an excellent way to stretch and work areas of the neck and back that are inflamed or tense. Start with a beginners yoga class and work your way up. A certified instructor may also share some tips on poses that can further support the neck and back.
Buy Ergonomic Office Furniture
You should always make it a habit of purchasing ergonomic office furniture whenever possible. This can help you prevent neck and back pain, as well as contribute to reducing the pain that you may be currently experiencing. This type of seating is designed to support the spine while sitting for extended periods. You can find ergonomic chairs and desks online, just by doing a quick Google search.
Visit the Masseuse Regularly
Getting a massage doesn't have to only happen on special occasions. You can make this part of your routine for maintaining a pain-free neck and back. A deep tissue massage or a simple one can go a long way in helping to relieve muscle tension and reduce inflammation. Your doctor may provide medical massage therapy, so be sure to ask at your next visit.
At PRM Practice, we specialize in pain management. We know that neck and back pain can significantly reduce your quality of life, and we're here to help. We offer a number of pain treatments to patients with mild to severe issues, including natural healing with regenerative medicine. Contact us today to find out how we can help you! (313) 774-8143