Dr. Sunny Kim Chosen to Chair at Cell Surgical Conference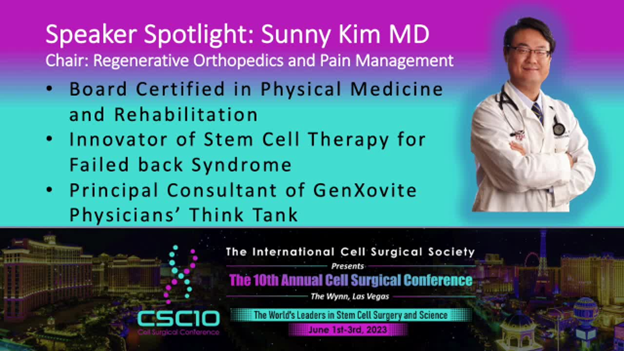 Dr. Sunny Kim, was named as a featured contributor for the Speaker Spotlight Series at the Cell Surgical Conference. This conference brings together the world's leading physicians and scientists who are committed to advancing cellular medicine. Dr. Kim is one of the leading providers in this field and his practice helps patients heal through advanced combinations of methods and collaborative efforts.
Dr. Kim was chosen to chair the Regeneration Orthopedics and Pain Management session at the 2023 conference. As a board-certified Physical Medicine and Rehabilitation doctor, Dr. Kim specializes in treating patients with Failed Back Syndrome using regenerative techniques to care for the most challenging cases.
The Cell Surgical Conference is dedicated to encouraging collaboration, a primary practice philosophy that Dr. Kim embraces. He is the principal consultant and founder of the international think tank, GenXovite, an organization that brings together physicians and scientists to provide a collaborative environment to discuss challenging cases, new techniques, and the latest data in the ever-changing world of regenerative medicine.
Interested in learning more?
If you are interested in getting better outcomes for your back and spine patients, contact Dr. Sunny Kim. For more information on the GenXovite initiative, please visit GenXovite.com.