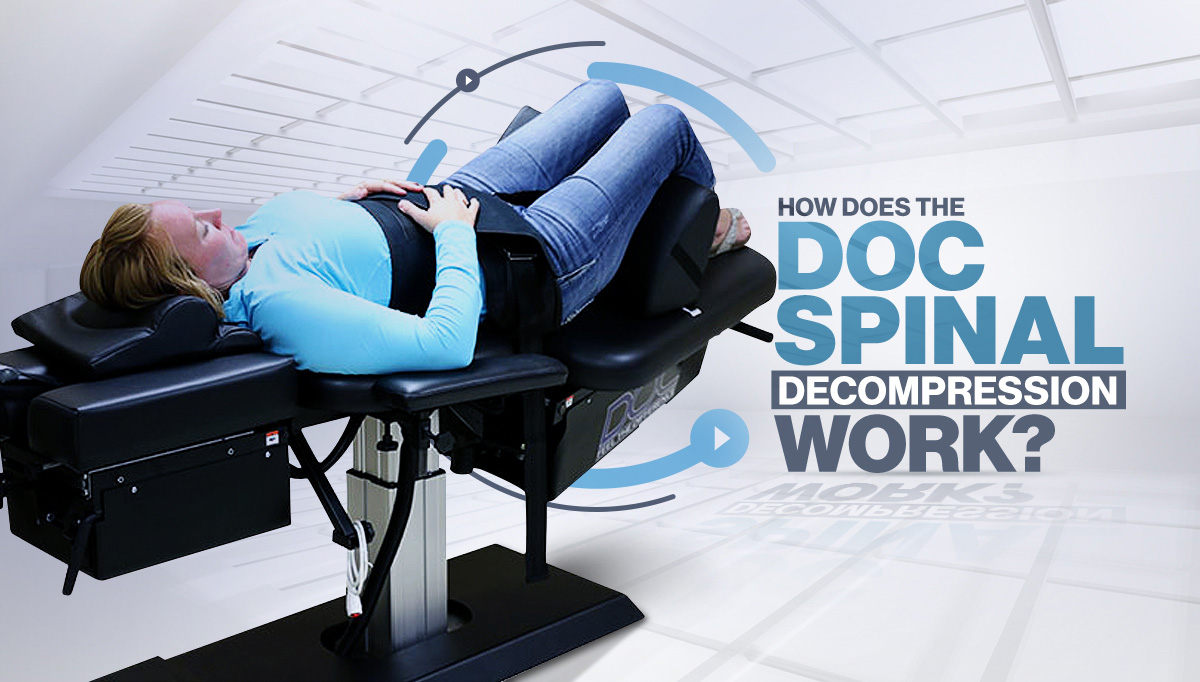 How Does the DOC Spinal Decompression Work?
If you or someone you know suffers from back pain, neck pain, sciatica caused by a bulging or herniated disc, degenerative disc disease, or facet joint syndrome, it is likely you've heard of "non-surgical spinal decompression." Spinal decompression is a treatment method used to stimulate the body's natural repair mechanism – specifically by engaging the necessary building blocks to repair and mend injured and degenerative discs in the vertebrae. Many patients like to turn to spinal decompression therapy because they can get relief without drugs, injections or the intervention of surgery.
How Does Spinal Decompression Work?
At our clinic in Cedar Rapids, we utilize the DOC Decompression system for our spinal decompression treatments. DOC Decompression is currently the most sophisticated, true three-dimensional decompression system on the market to treat chronic neck and back pain.
The DOC Decompression system, and other systems like it, work by slowly lengthening and decompressing the spine. These movements cause negative pressures within the disc. This type of pressure then creates an intradiscal vacuum that helps to reposition bulging discs and protruding disc material back into place. Ultimately, the goal is to realign the spinal discs, allow nutrients and oxygen to flow back into damaged or injured discs, take pressure off any pinched nerves that have been affected, and relieve the patient's pain.
What to Expect from a Spinal Decompression Session
During your first visit, one of our medical professionals will conduct a physical exam. In some cases, we might recommend an X-ray or MRI to better understand your condition and pinpoint the exact areas of damage. After we review our findings, we will determine if DOC Decompression is the most suitable course of action or if another form of therapy will work better for your condition.
In a typical spinal decompression session, patients will be properly and comfortably fitted within a pelvic harness. The system will begin to work its magic and the patient will notice a gradual lengthening of their spine as their discs are gently decompressed and relieved of tension and pressure. The therapy is designed to be safe and relaxing. Mild discomfort may be felt in the first few sessions of those with extensively damaged discs, but generally, patients express no pain during the treatment.
The DOC Decompression system also has an integrated computer system that is capable of sensing the patient's guarding reflex. What this means is that the system is responsive to the patient's limitations and tension, gently pulling and relaxing on the spine only when needed. The table is also adjustable to target different segments of the spine.
Overall, we have seen many patients with neck and back problems that have been helped with the DOC Decompression system.  To learn more about it, watch our video with Dr. Sunny Kim here. To discuss spinal decompression with someone in our office, please contact us at (319) 774-8143 or at info@prmpractice.com.