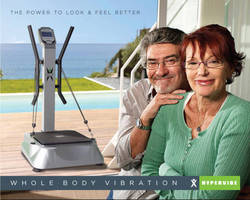 Hypervibe Training is a scientifically supported exercise and rehabilitation method that involves the performance of strength, flexibility, massage & circulatory exercises on an oscillating platform. Through the unique integration of traditional exercises with cutting-edge technology,
Hypervibe Training is a safe, fast, and effective means to elevate your level of health and fitness in only a fraction of time.
Benefits of Hypervibe Training include:
Improved Muscle Strength and Tone
Increased Bone Density
Weight Loss and Positive Body Composition Changes
Hormone Balancing
Reduced Pain (local and systemic)
Improved Flexibility
Improved Balance and Reduced Fall Risk
Improved Circulation and Lymphatic Mobility
In summary, Hypervibe Training enhances the body's response to exercise allowing for more rapid progress than a traditional exercise program.